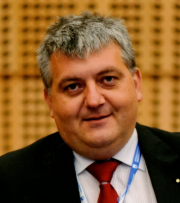 Mr. Anton Travner
Director of DCAF Ljubljana and DCAF Border Security Programme for Southeast Europe
Born on 2 January 1967. Concluded law studies at the Law Faculty of the University of Ljubljana, followed by the successful obtainment of an LLM Degree in Civil Law in 2008.
Began his career in the Slovenian police as police officer, and was subsequently appointed Head of Department for Border Security, and a year later Head of Sector for Border Security and Foreigners in the General Police Administration, Ministry of the Interior of the Republic of Slovenia. In 2004, he was appointed Head of Cabinet and Senior Counsellor to the Minister, as a member of the Slovenian Police Steering Board; in 2005 he was appointed Head of Service of the Director-General of the Police, and later promoted to the Head of Service for International Relations of the General Police Directorate. He was a member of the Slovenian national team in the EU accession process (Chapter 24). As an expert on police and border security matters, he chaired and contributed to various working groups, negotiations and other projects. He led the Slovenian delegation to the CATS Committee of the Council of the EU, and chaired the Committee during the Slovenian Presidency of the Council of the EU in the first half of 2008.
He joined DCAF in 2006 as Senior Adviser in the DCAF Border Security programme, and in 2008 was appointed Director of DCAF Ljubljana and Head of the Secretariat of the Police Cooperation Convention for Southeast Europe (PCC SEE). From 2012 onward, following the transfer of the DCAF Border Security Programme to DCAF Ljubljana, he has worked as Head of DCAF Border Security Programme for Southeast Europe.
He speaks Slovenian, Serbian/Croatian and English. He is married with two children.